CHEF'S RECOMMENDATION

April 24,2007
In Tartiflette we trust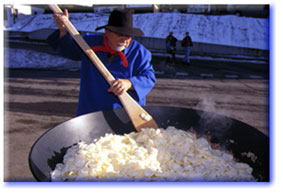 The French cuisine is world famous and outstanding, We certainly have the
highest benchmark and in particular the famous Tartiflette, in which we trust.

What fine cuisine around the world can compete with this. Is it the infamous
schnitzel on the German autobahn, the "red sausage" in Denmark,
the seal eye in Greenland, the fermented shark in Iceland, or....????


Posted by janremmelg @ 13:02 | comments 4