TRAVEL DIARY

24.1.2009
Vertical Way Around - The movie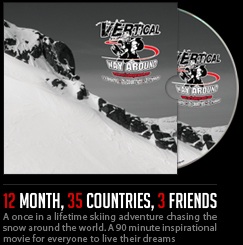 12 month of experiences in a 90 minute movie!!!! That's not an easy task, but we
have made an attempt.

We have been fortunate to be able to have done this fantastic journey. A true once
in a lifetime adventure and we have been living our dream.

We hope that we can inspire viewers to go ahead and live their dream what ever it
may be. Anything is possible, just do it.

We do appreciate all the support, encouragement and appreciation we have received
from various people - Many Thanks.

The DVD is now available in our web shop and in addition to the movie it includes
a slide show showing all our best ski pictures. We are sure you will enjoy it all.