TRAVEL DIARY

1.2.2008
Whistler, Bella Coola, Revelstoke, Red Mountain & Alta

"O Canada! our home and native land!
True patriot love in all thy sons command.
With glowing hearts we see thee rise,
The True North strong and free!
From far and wide, O Canada,
We stand on guard for thee.
God keep our land glorious and free!
O Canada, we stand on guard for thee.
O Canada, we stand on guard for thee."

The mighty country in the north is majestic, the skiing is brilliant and
the people are exceptional. It's our kind of place and much more relaxed
than the US.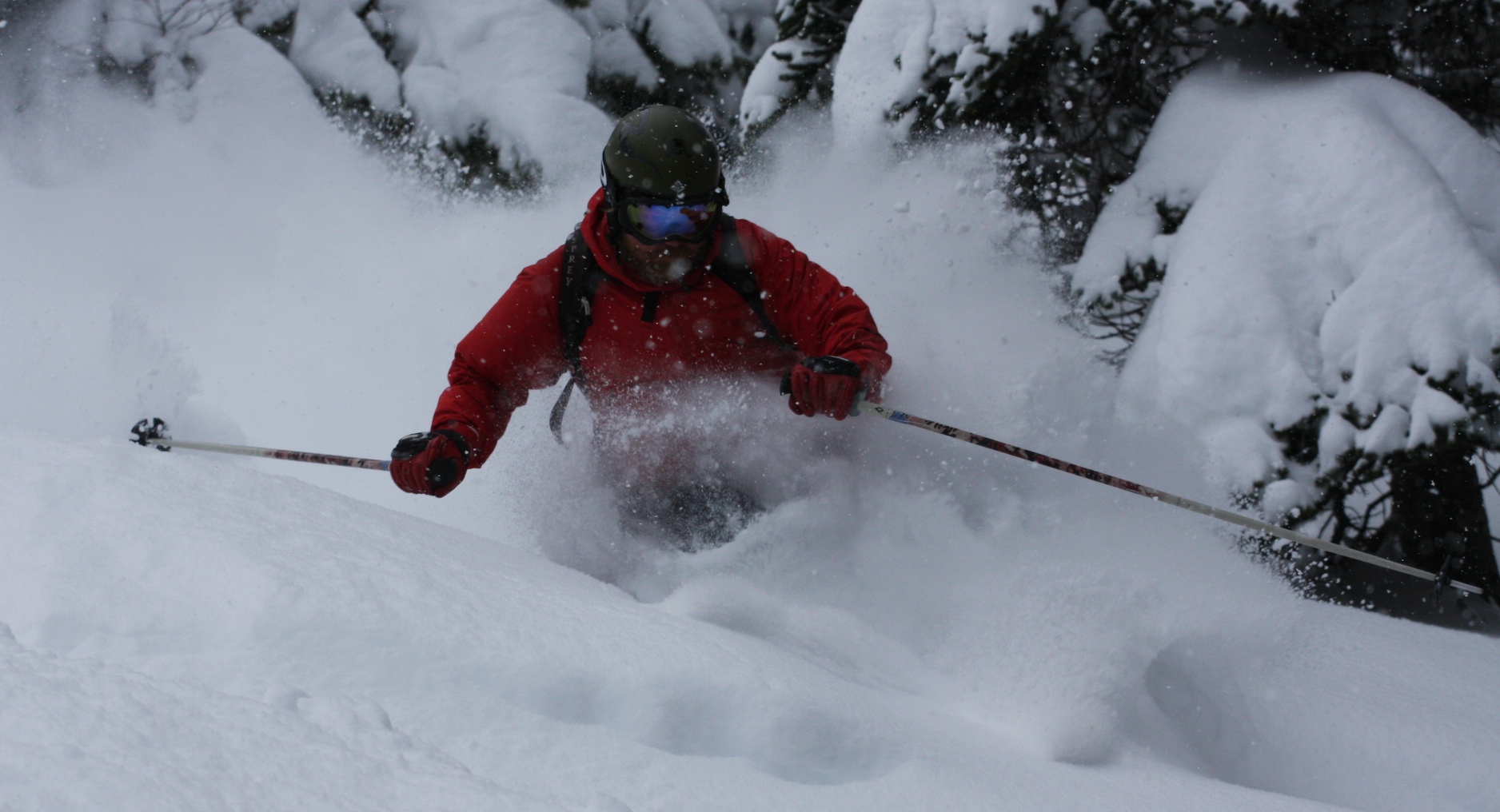 Jocke floating through Whistler powder

Whistler was really showing us a lot of snow, it more or less snowed for 3 days
and there was no lack of powder. The issue was visibility on higher altitude
and some of the high altitude lifts were closed most of the time, so it was mostly
tree skiing. But, wow, so good. You need to check out the area around "The Peak",
"Million Dollar Ridge" and "Symphony Express" – brilliant skiing. Don't forget
the Blackcomb side that gives you plenty of challenges. We liked the areas around
"7th Heaven" and "Showcase". The Whistler village is really nice with plenty of
action going on and some really good après ski at Garibaldi and Longhorn –
waitresses that will knock your socks off…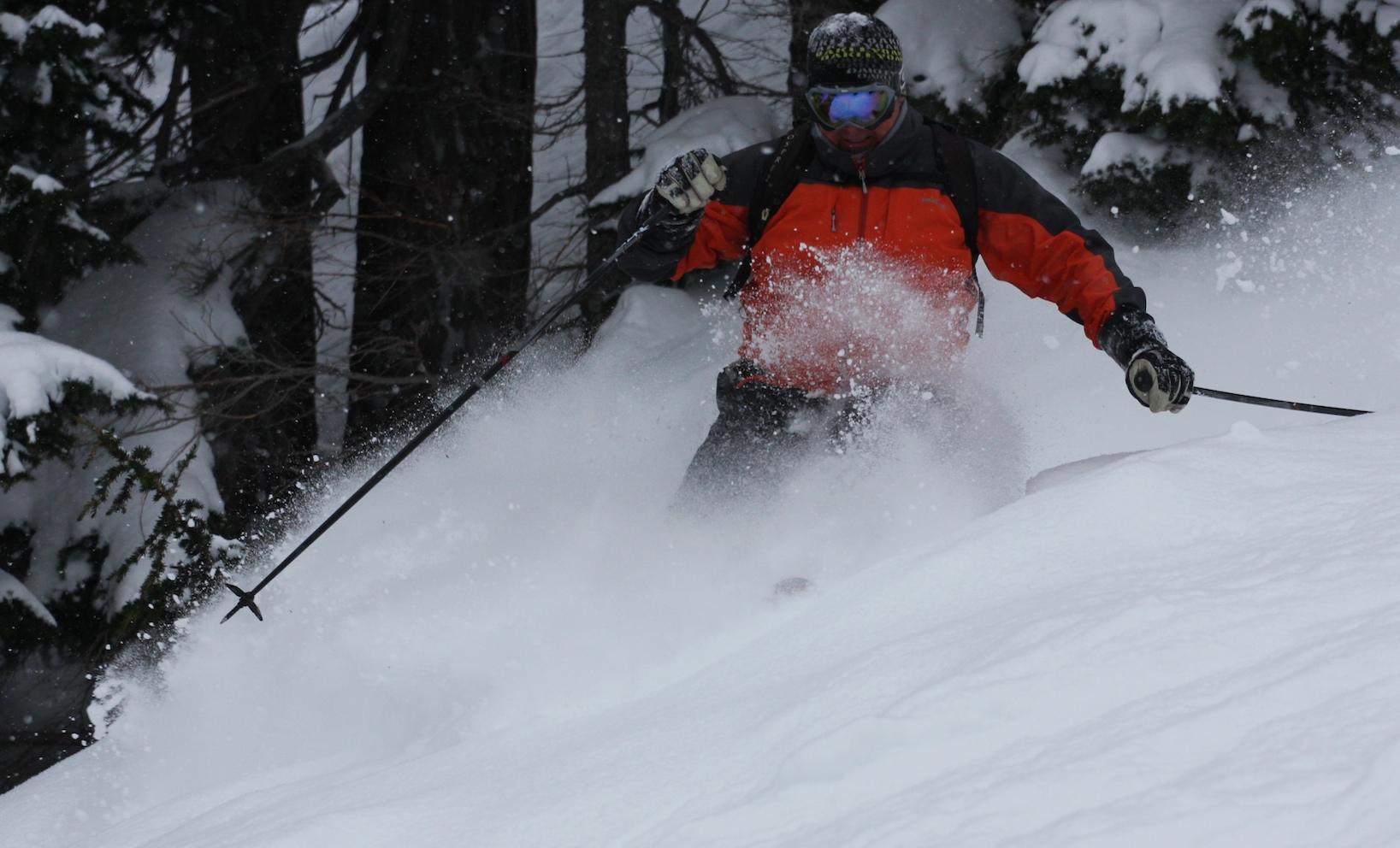 Janne at Whistler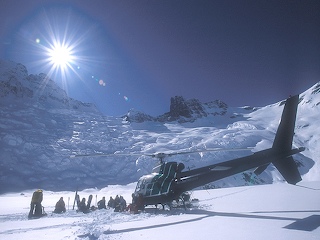 Bella Coola, British Columbia, Canada

Bella Coola……what to say…… simply brilliant. The Tweedsmuir lodge
is in the middle of nowhere on the western coast of British Columbia
(Canada) in a stunning location. The territory that Bella Coola Helisports
can use is huge and the possibilities for heli skiing are endless. The entire
staff is exceptional and they made us feel like at home. It was an interesting
group of other guests and there were some hot late evening fussball games
– Canada vs Sweden – unfortunately mostly Canadian victories.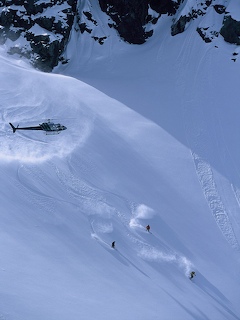 Bella Coola - simply fantastic

Heli skiing is all about the weather and you should always be prepared for
days with no skiing due to bad weather. We did experience this for a few
days, but we found some other "winter activities" – fly fishing !!!! It's a
surreal feeling standing in the middle of the cold river fishing for trout
when the snow is falling down.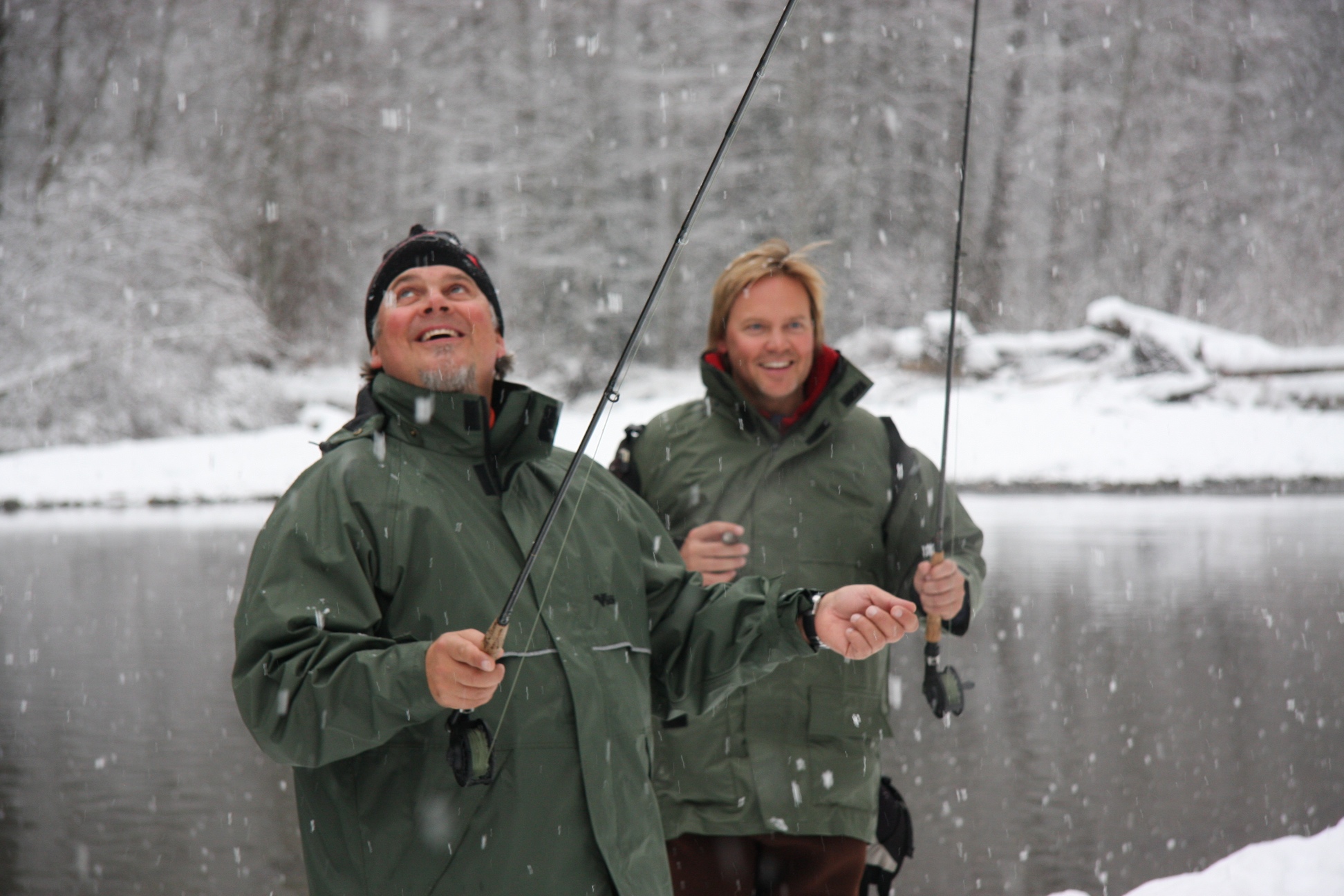 No skiing, but still having fun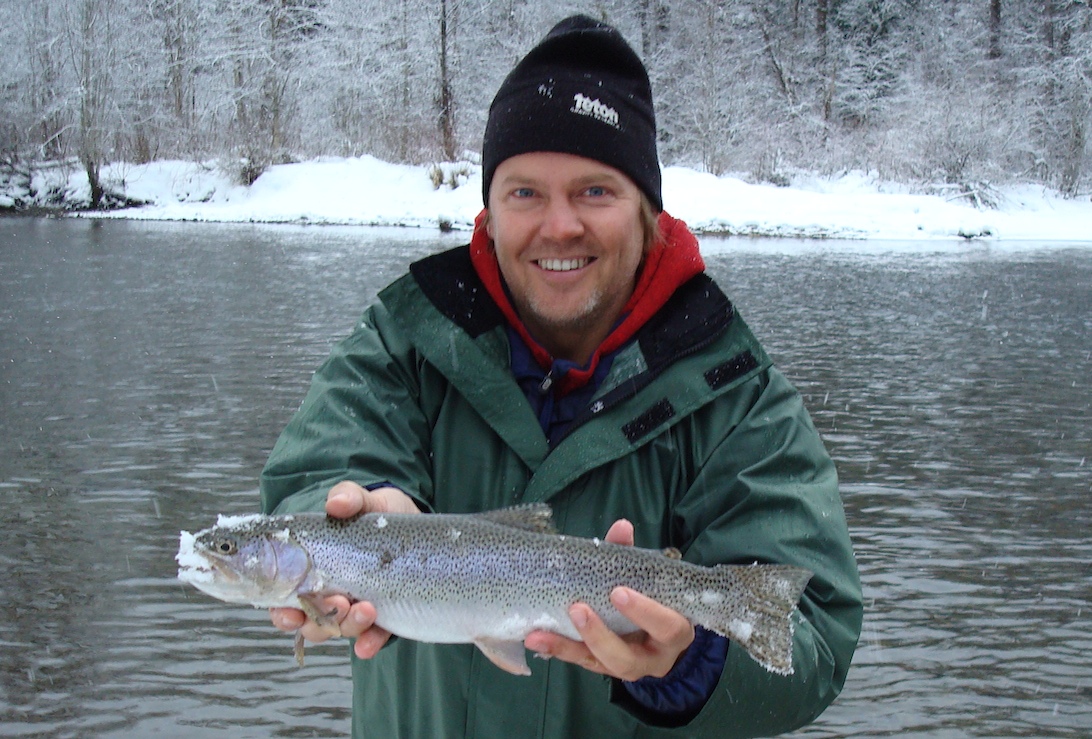 Nice trout & yes, we heard his story a few times

It's a tremendous feeling just getting in to the "bird" (helicopter), taking off,
finding a spot on the mountain, landing and then drop down the mountain in
untouched snow and then to be picked up again by the "bird". It's for sure
something that someone easily can get used to. The guides, Woody and Paul,
did a great job finding different runs all the time with deep powder – fantastic.

Bella Coola is also very much about one person and fellow Swedish countryman,
Peter "Swede" Mattson, who runs the place. A very cool guy with a lot of character
and he really made our stay exceptionell. I really wonder what the other guests
were thinking when "Swede" pulled out a bottle of Swedish schnapps and some
Swedish herring. We Swedes then performed a traditional Swedish schnapps song
("Helan går") from the bottom of our heart – emotional moment.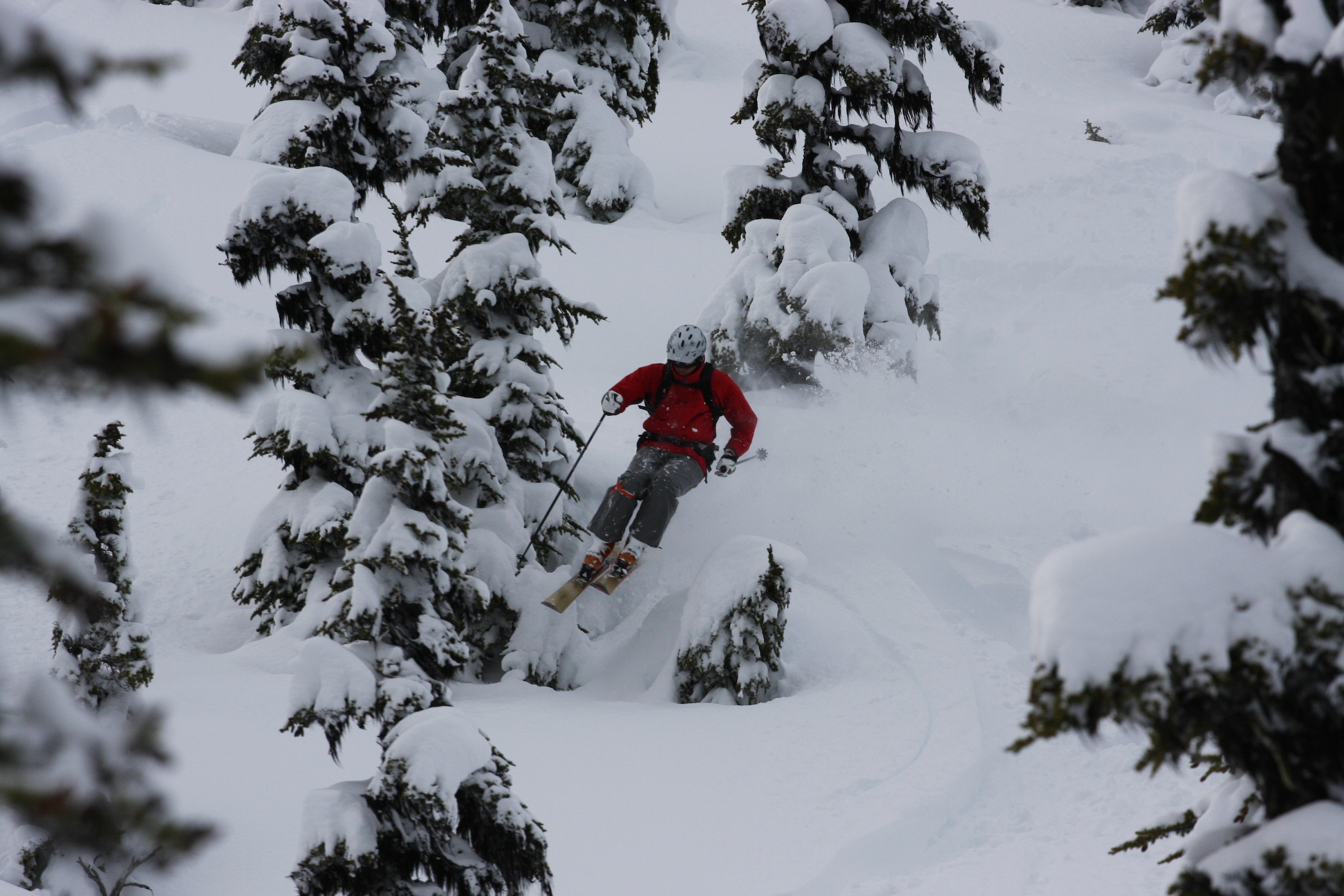 Richard likes the BC trees

Bella Coola is certainly one of our best skiing experiences ever and you
need to go there. We'll certainly try to go back next winter.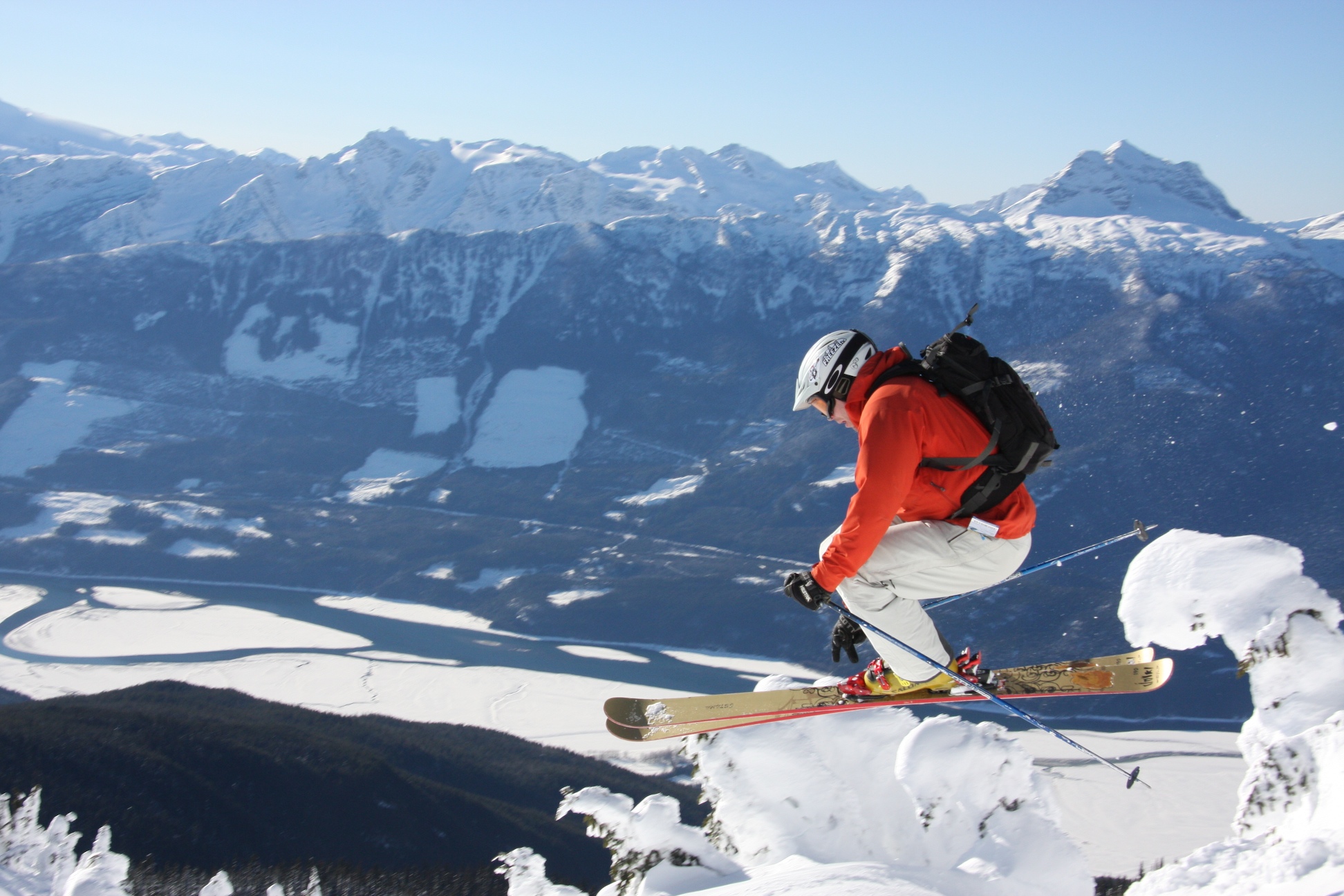 Peter Suban takes air in Revelstoke

Revelstoke is the next big ski area. The opened for lift skiing in December
2007 and it'll be a lot of money spent and development over the next few
years. It already has some big vertical meters (most in North America) and
very interesting skiing. It's very much virgin territory at this point, so this
is a place to visit rather sooner than later to get a genuine experience. Not
much is happening in the town and it's pretty dead.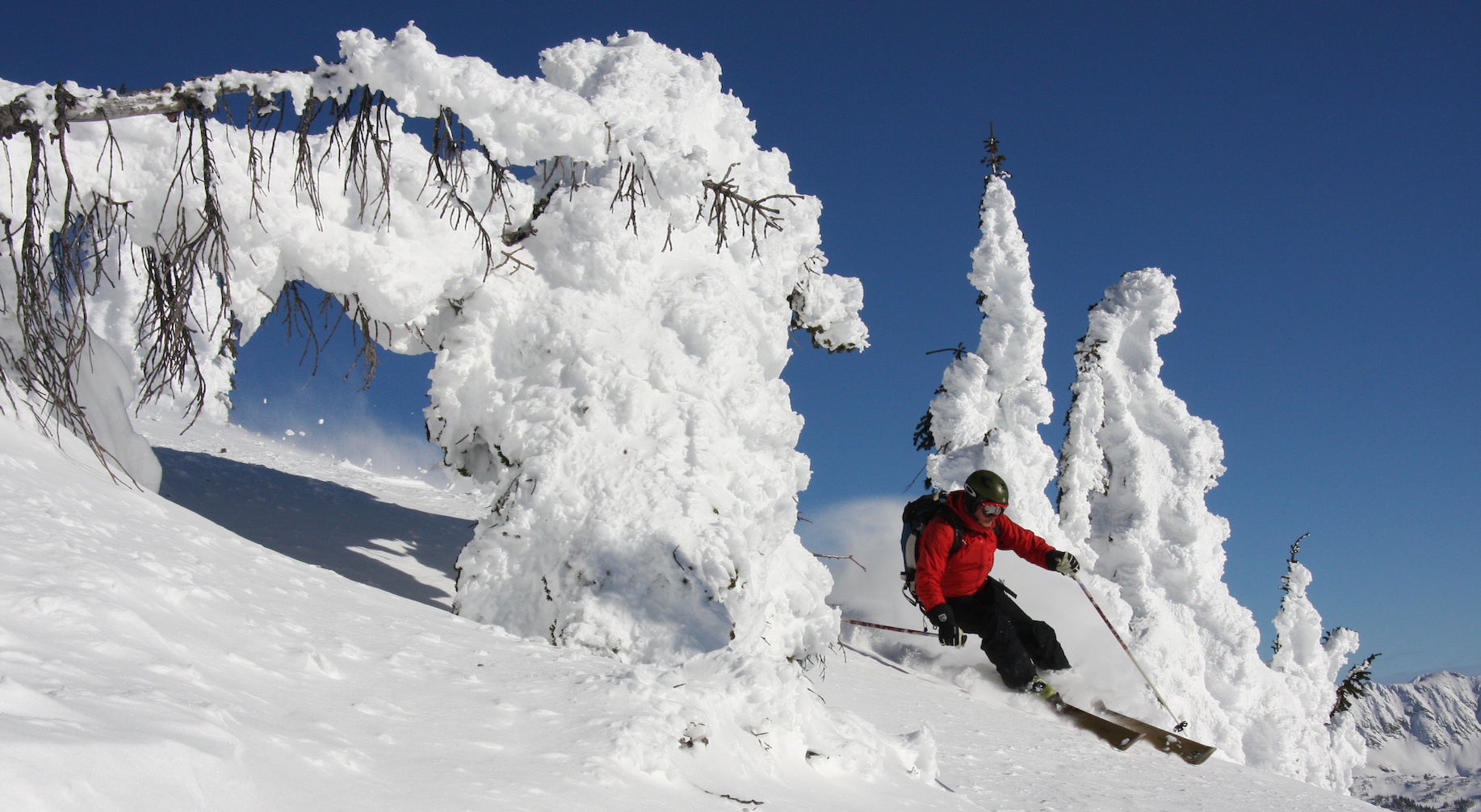 Icy trees in Revelstoke

It was pretty cool to see the TGR guys (Micah Black, etc.) skiing and filming
next to us in Revelstoke. The Verticals and TGR is picking the same places
– interesting. There were also another Swedisd/Norwegian film crew in
Revelstoke filming.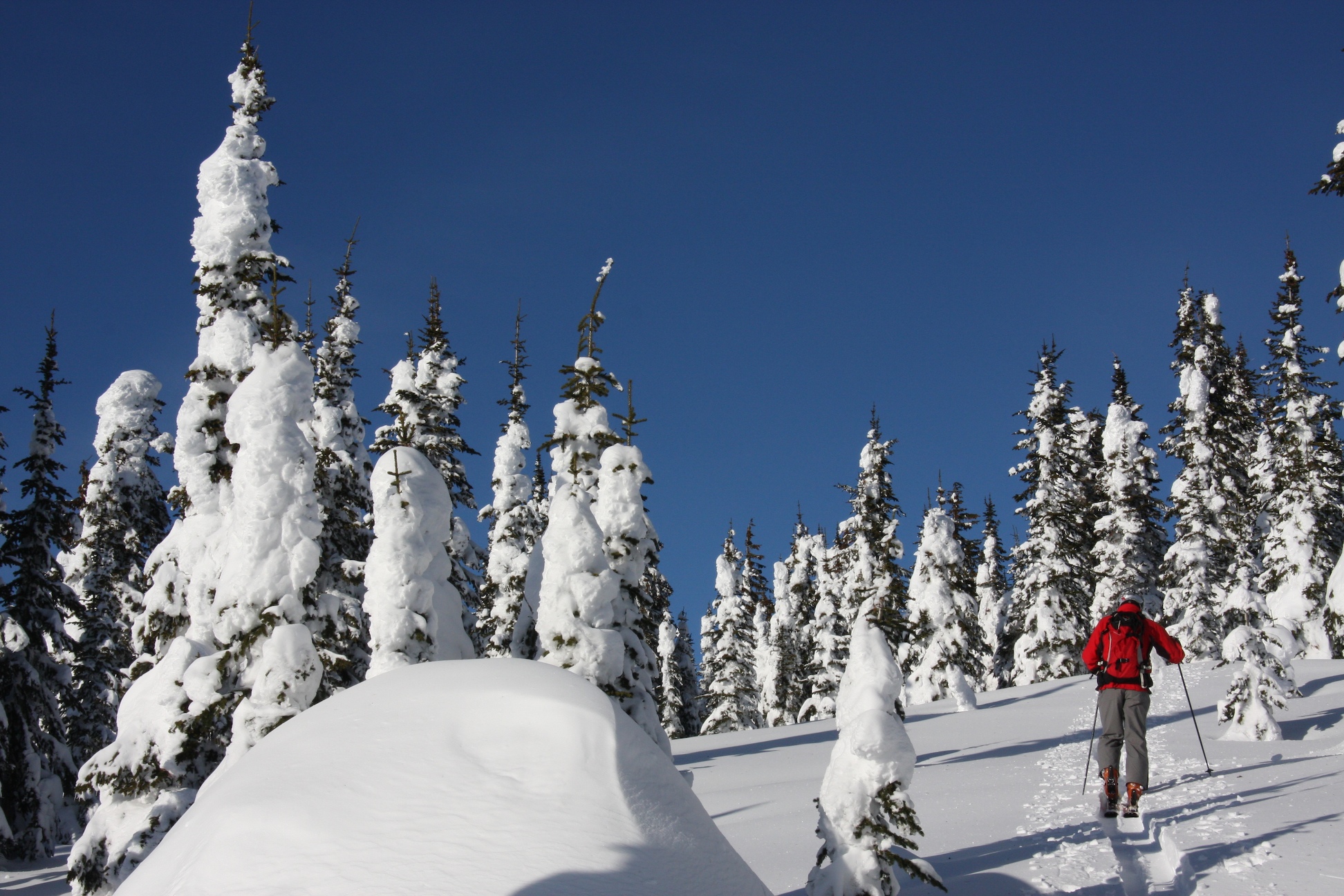 Red Mountain back country

Red Mountain doesn't have many ski lifts, but the terrain is large and very
good. The tree skiing is very nice and it really gives you a challenge. Do
some hiking and you'll find plenty of great runs. Plenty of fresh powder and
"blue bird" (blue sky and sunny) – stunning. The other great thing about Red
is that you don't need to fight like crazy with other skiers for the powder, not
that crowded and it's plenty of space and snow for everyone. We'll certainly
go back to Red.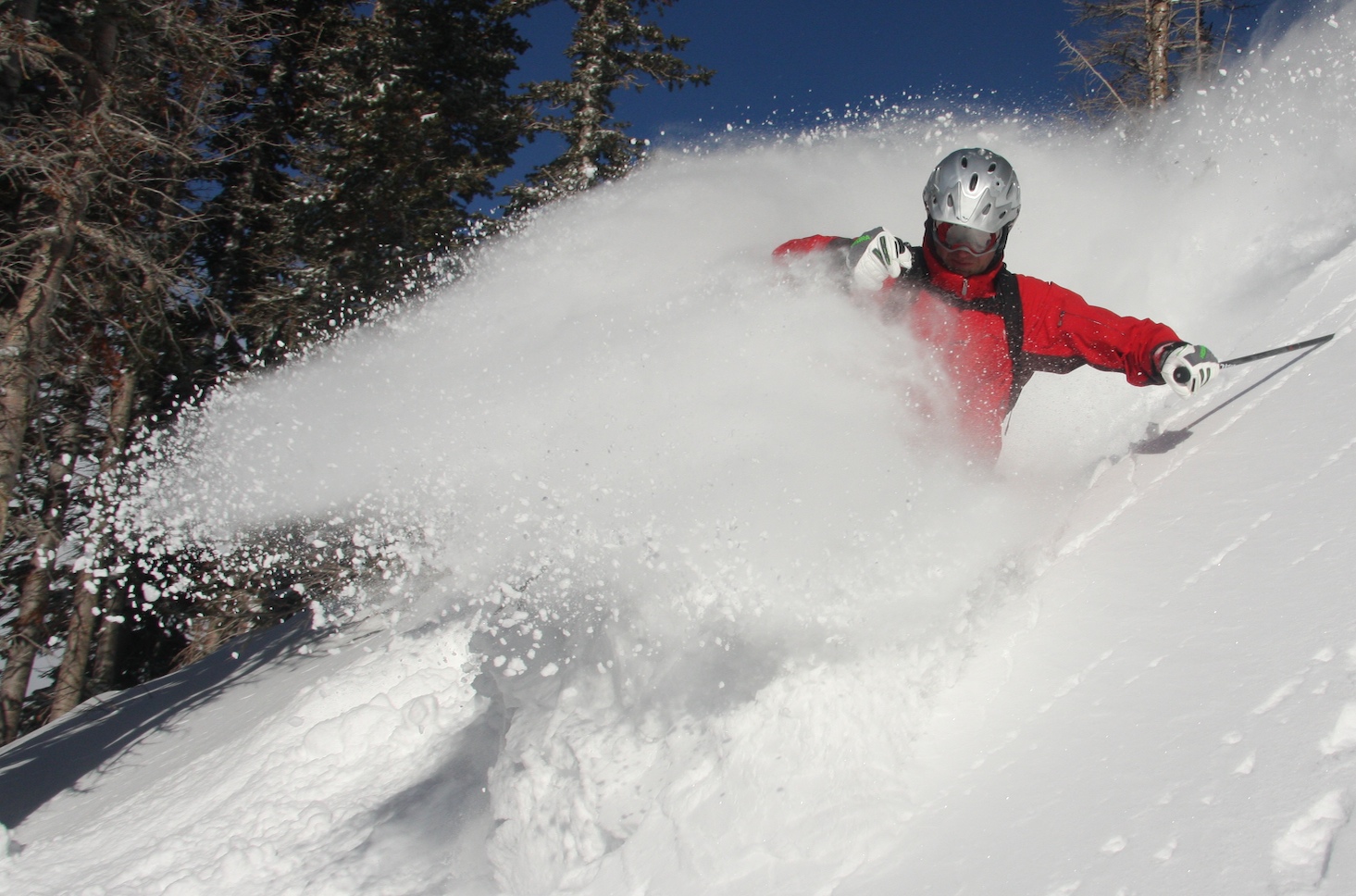 Richard ripping Red Mountain powder

One small incident in Red, our production partner and cameraman had an
incident and he dislocated his shoulder. We spent 5-6 hours in the nearby
hospital for the doctor to fix the shoulder. He will though not be skiing
and filming for some time and hopefully is he back in action when we get
to Japan.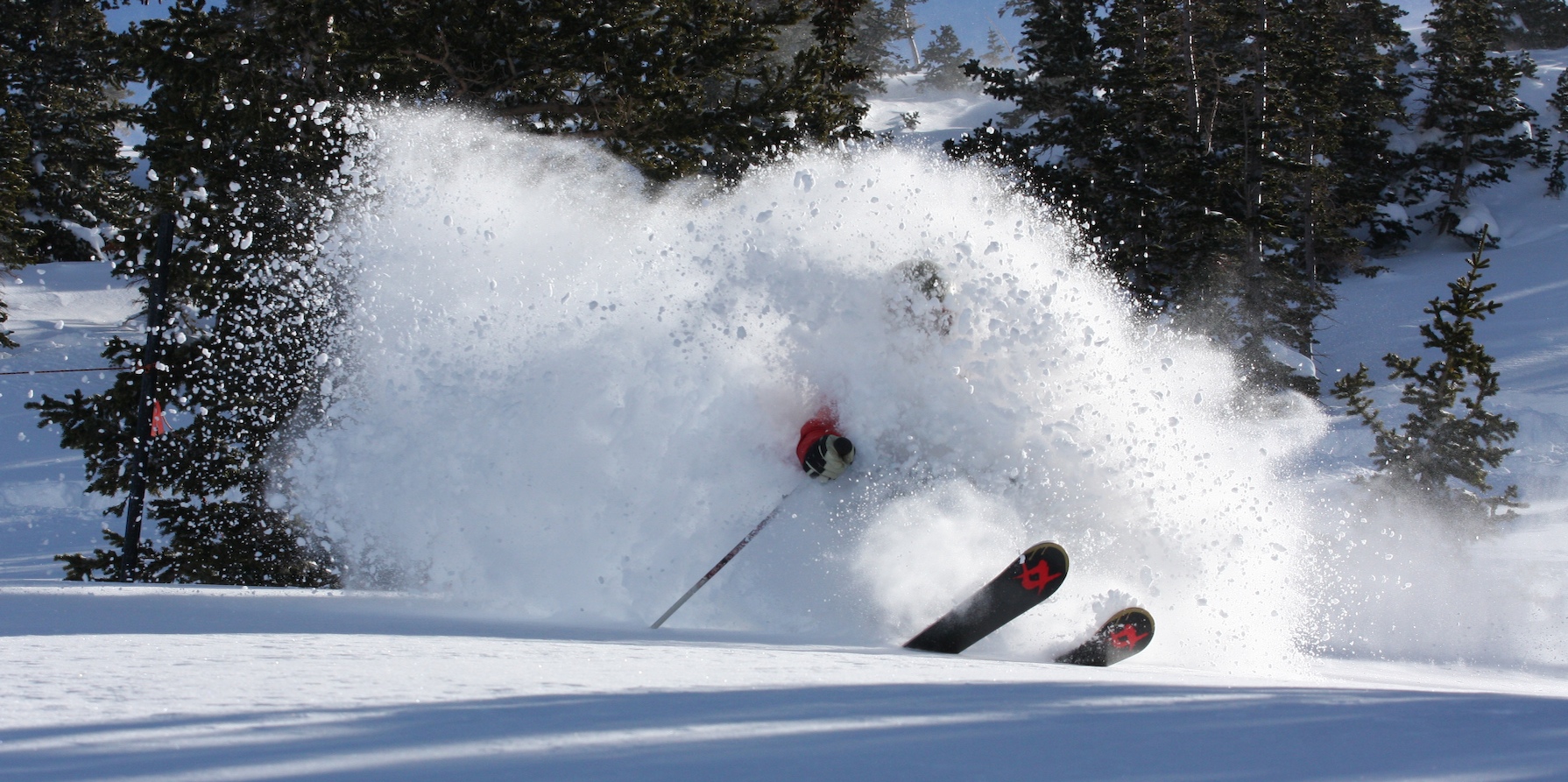 Alta: Jocke needs a snorkel

"Utah – Greatest snow on earth"……is it true or not?????
Yes, it's true. We experienced this during two fantastic days in Alta. Fresh
dry fluffy powder – this must be what heaven is like. We were mostly skiing
"Ballroom", "West Rustler" "East Castle" and "East Greeley" – great skiing
in the powder. Remember to be up early on a powder day, because there are
a lot of other skiers that are looking for the same thing as you do and it
doesn't take long until the mountain is full with tracks. When this happens,
it's time for some longer hiking and you'll find more pow pow.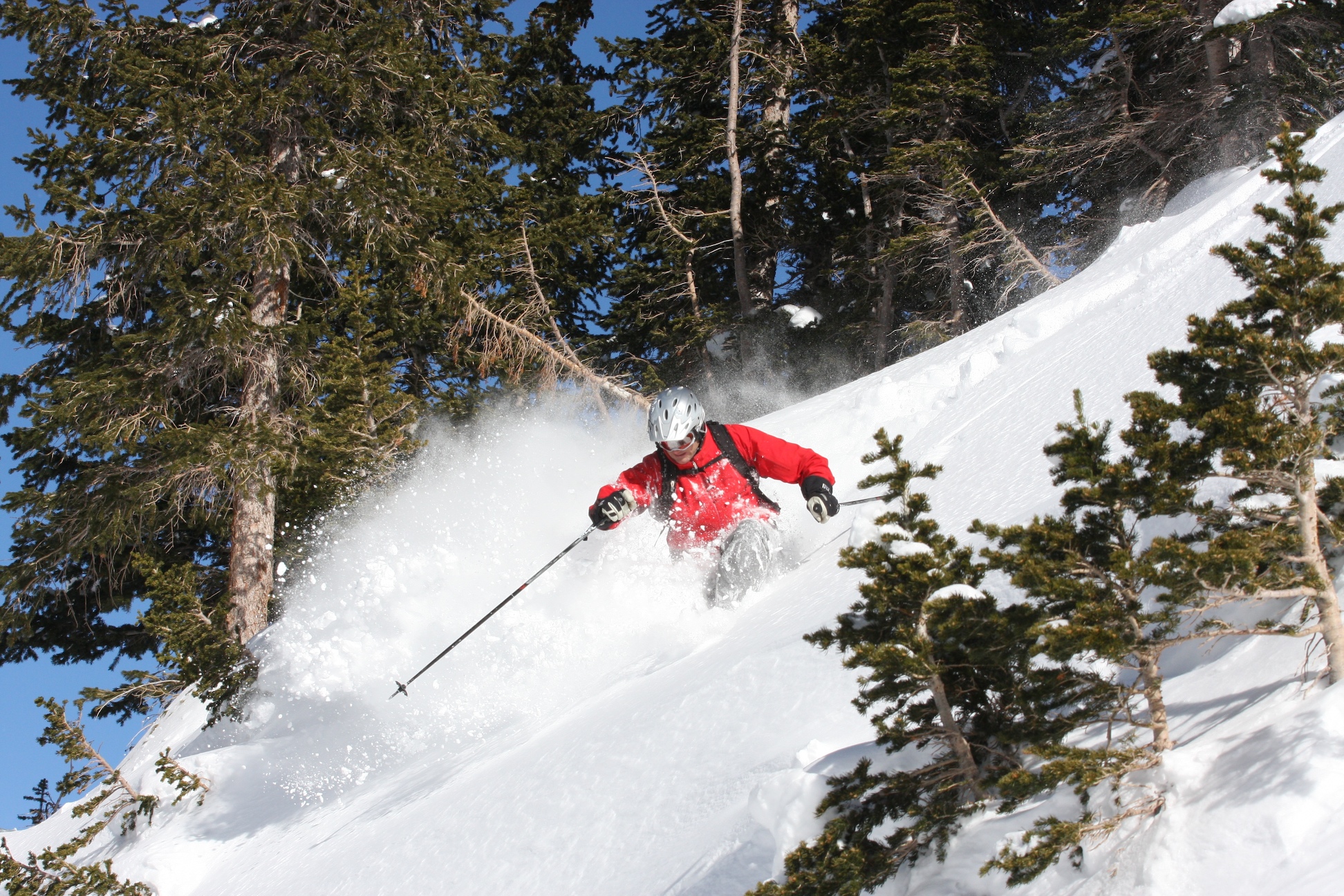 Richard and the famous Alta snow


Canada is of course also a lot about ice hockey and the passion for the game is
tremendous. Montreal is the Mecka of ice hockey: "The city is ice hockey".
The pride of the city is "The Habs" – Montreal Canadiens.

Did you know that Montreal Canadiens has by far the most Stanley Cup wins
(National Hockey League) – 24. Toronto is on second place with 13 wins.

"GO HABS GO"






We are now off to Asia with a first stop in Japan – exciting stuff.